Frederick Thomas Kelley was born in 1898, we believe in the Union of South Africa. There is also confusion here. He was familiarly known as Tom and we have his name written in on some things as Thomas Frederick. Somewhere between 1922 and 1927 (the years that Martin and Emily came to NA) he came to North America and lived in Halifax, Nova Scotia. He played clarinet in a dance band but couldn't get a job to support himself at that, so he became a butler.

Tom was married but we are unsure of his wife's name, although Richard seems to think that it was Marie. We do know that he had two children, a son, also Frederick Thomas, and a daughter. We do not know her name.

At some point before 1955, he moved to Glen Cove, Long Island, New York. We know it was before 1955 because in December 1955, Richard was serving in the Navy on the Cambria APA36. He was in port at Norfolk VA. Tom was in the Merchant Marines at that point and they met each other in Norfolk. It is the only time in his life that Richard saw Tom. The next summer, Richard sailed into the New York City area. He went to dinner with Tom's wife and son. That is the only time he ever met young Tom. David knows that the family visited them on Long Island in the 1950's but he was very young and doesn't remember it or even who was there when we visited.

Sometime after 1961 he moved to Hollywood Florida. He was not yet in Florida when Emily visited there in 1961 with Richard and David. He later moved to Fort Lauderdale.

We have no information as to when he died.
James Martin Kelley ... we are looking to clarify some info here. Mom noted that Martin was the third son and was born in 1901 in Malta. British Army WWI Pension Records 1914-1920, show him as Charles William Patrick Kelley, born on August 3, 1897 in Malta. Mom has never mentioned these additional names. We agree with the Malta part. The confusion is that the records show Frederick Thomas as a sibling but does not indicate William as a brother. If William was born in 1896 and Martin in 1897, how did they fit Frederick Thomas in between them?

Mom noted that he was trained as a plumber/pipe fitter in England. Around 1922, he came to Halifax, Nova Scotia. There he worked for a wealthy family as a butler. At some point before 1927, he moved to Montreal.

Before 1950, he moved to the USA, settling in the West Palm Beach area of Florida. His wife's name was Marie and they had one son, Danny. The only time Richard ever met Martin and Danny was in 1956. Martin was in the Navy at that point and was stationed in Guantanamo Bay. His duties included some kind of work at the Petty Officer's Club. Richard was also in the Navy and sailed into port there where he saw Martin, Marie and Danny. Danny was about 16 at that time, so he was born ca 1940. When Richard graduated from college in 1961, he took his mother and his half-brother David to Florida for a vacation. They visited Marie at the home in West Palm Beach but Martin was not at home at the time. Still in the Navy, he was at sea. Danny was grown at that point and was not there. This is the only time David ever saw Marie. He never met Martin or Danny.

He is buried in a military hospital in Florida.

It is our understanding that Danny was a police officer, possibly a detective in either Miami or Fort Lauderdale Florida.

We also do not know when Martin died.

Emily seated on what appears to be some kind of barrel ... the back of the photo says "in USA 1930"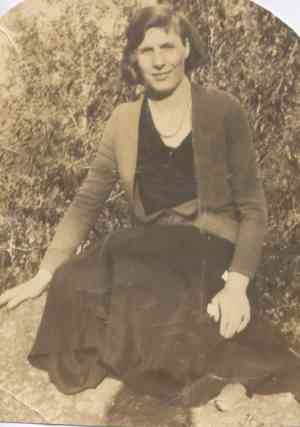 Emily, probably in the 30's
Emily Lavinia Kelley was born on December 28, 1908 in England, at the Military Families Hospital in Portsea. According to her birth certificate, she was born in the Registration District of Portsmouth, in the sub-district of Portsea and Landport, in the County of Portsmouth C.B.

She came to America in 1927 at the age of 18. According to Richard, she had a boyfriend in England that her parents didn't think much of. They shipped her to Montreal PQ where she was united with her brother Martin and she was trained to be a lady's maid. Although she was sent to North America by her parents, she always insisted that she paid for her trip.

While in Montreal, she met Leo Laurin. He was from Watertown NY but was in Montreal for some reason, possibly visiting family. They were married on July 11, 1929. She had a son, Eric William Laurin, on September 25, 1930. He died on December 28 of that same year at the age of 0-3-3. We do not know the exact cause of death but it is interesting to note that Eric's birth date, September 25 eventually became important to the family later. Emily's son Richard was married on this day in 1964 and her grand-daugheter Miranda was married on that day in 2010. He died on Emily's 22nd birthday. A second son, Richard Leo Laurin was born on July 25, 1935. By that point, they were living in Watertown NY. Richard currently lives in Star Lake NY.

In the summer of 1937, she and Richard went back to England. Although several stories surround this circumstance, we now realize it was to escape a failing marriage. They were on a six-month visa. The war broke out, they were in the south of England and she was not able to get back to America until 1946. She and Richard departed by ship from South Hampton, England on July 4, 1946. By the time they arrived back in Watertown, Emily found that her husband had remarried, even though they had not yet divorced. It is our understanding that she told Leo that if he stayed out of Richard and her lives, she would let him have a divorce without involving the authorities. He was in Canada at that point and she went back to Watertown. Their divorce was final in 1947.

She then took jobs cleaning homes and businesses to support herself and her young son. It was while cleaning at radio station WATN in Waertown that she met Donald E. Schryver, the chief engineer at the station. They were married on July 22, 1950. A son, David J. Schryver was born on August 29, 1951.

Donald spent the last five or so years of his life with coronary problems and congestive heart failure. He died of coronary failure on November 23, 1997 at the age of 85-9-10. Emily suffered a stroke in July 1999 and was moved the next month to Richard's home in Star Lake, St. Lawrence County, about an hour's drive away. Richard was retired at the time and David lived only about 20 miles away so it was easier to care for her there than in her home in Watertown. She suffered a series of strokes in April 2000 and passed away on April 22, 2000 at age 91-3-25.