Donald Everett Schryver was born on 13 February 1912. He was the second child and second son of John Clinton Schryver and Elizabeth Mary Knutty Schryver.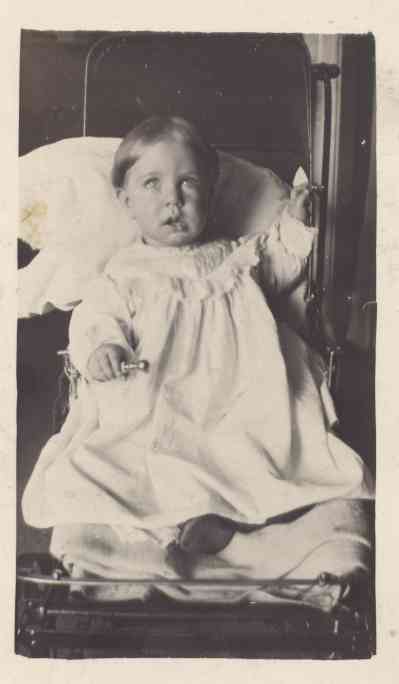 Donald lived in Watertown (Jefferson County, NY) his entire life, except for his college years. He graduated from the Watertown High School in 1930. He took several classes offered in Watertown by Syracuse University and then enrolled at the Tri-State College in Angola IN. He received his BA in Electrical Engineering in 1939.
The picture at the right is not labeled, but we are fairly certain that it is Donald in what appears to be a baptismal gown. The photo below shows Donald, seated, with his older brother, John Howard. Based on their apparent ages, this photo was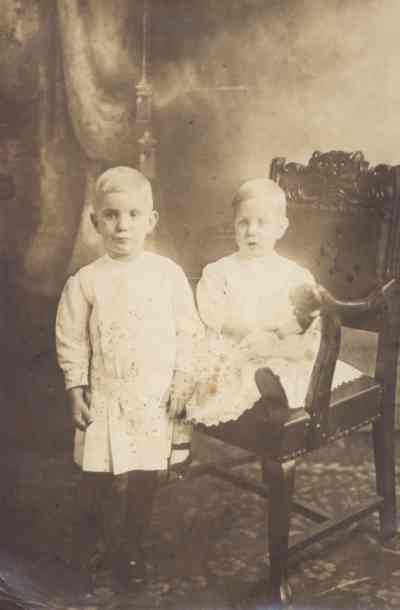 probably taken in 1914.
Shortly after his college graduation, he became the chief engineer at radio station WATN in Watertown. He served in that capacity until he retired in 1978. In 1959, the radio station owner was notified that they would have to relocate because they were tearing the building down to replace it with a new structure. At that time, the radio station was on the top floor of the Northern New York Trust Company building and the tower was on top of the building. Donald virtually single-handedly disconnected and removed all of the radio station equipment and put it in storage until the new building was ready for occupancy in 1962. He then moved the equipment into the new building and put the station back on the air. The Northern New York Trust Company building was located at the corner of Washington Street and Stone Street in Watertown, just off Public Square. It is now the location of the HSBC Bank building.
In 1959, when the station was off the air, he went searching for a new job and was hired as a plant operator at the Watertown Municipal Electric Plant. He was approached by the city's Utility Supervisor in the early 1960's and agreed to be retrained. He subsequently became the Watertown City Chemist and simultaneously worked in the job until he retired from it in 1975.
During most of his adult years, Donald operated his own business in addition to the above mentioned jobs. He did service work in radio and television and for many years, maintained the communications equipment for several municipal and emergency services. He owned and operated the Wired Programming Service during the 40's and 50's. This business supplied background music to businesses in the Jefferson County area. He also owned an apartment building for a period of time in Watertown that had over 30 apartments. He also ran a snack food delivery business for several years. They supplied snacks to many bars and stores in the area and distributed the Wickham Potato Chip brand.
Communications were always a big part of Donald's life. He was also an amateur (ham) radio operator. He was first licensed in 1931 as W8ECF. After World War II, the northern part of New York was reassigned as the second district and he obtained the call W2ECF, which he held until his death. In those years, a separate license was needed if you operated out of your home area. He also held a second license in Indiana when he was in college. Over the years, ham radio has had various levels of operating licenses. Donald held one of the mid-level licenses most of his life and it wasn't until around 1985 (age 73) that he upgraded to Amateur Extra. By that time, his son, David had become a ham. Donald decided that he couldn't let his son beat him to the top rung of the licensing ladder! He upgraded to Amateur Extra that year, David in April of the next year.
Donald spent the last five or so years of his life with coronary problems and congestive heart failure. He died of coronary failure on November 23, 1997 at the age of 85-9-10 and is buried in the Brookside Cemetery in Watertown.
Emily Lavinia Kelley was born on December 28, 1908 in England, at the Military Families Hospital in Portsea. According to her birth certificate, she was born in the Registration District of Portsmouth, in the sub-district of Portsea and Landport, in the County of Portsmouth C.B. The family apparently lived in Poole, County Dorset at that time, but later moved to Bournemouth.
She came to America in 1927 at the age of 18. According to her son Richard, she had a boyfriend in England that her parents didn't think much of. They shipped her to Montreal PQ where she was united with her brother Martin and she was trained to be a lady's maid. Although she was sent to North America by her parents, she always insisted that she paid for her trip.
While in Montreal, she met Leo Laurin. He was from Watertown NY but was in Montreal for some reason, possibly visiting family. They were married on July 11, 1929. She had a son, Eric William Laurin, on September 25, 1930. He died on December 28 of that same year at the age of 0-3-3. We do not know the exact cause of death but it is interesting to note that Eric's birth date eventually became the date of Richard's wedding anniversary and he died on Emily's twenty-second birthday. A second son, Richard Leo Laurin was born on July 25, 1935. By that point, they were living in Watertown NY.
In the summer of 1937, she and Richard went back to England. Although several stories surround this circumstance, we now realize it was to escape a failing marriage. They were on a six-month visa. The war broke out, they were in the south of England and she was not able to get back to America until 1946. She and Richard departed by ship from South Hampton, England on July 4, 1946. By the time they arrived back in Watertown, Emily found that her husband had remarried, even though they had not yet divorced. Their divorce was final in 1947.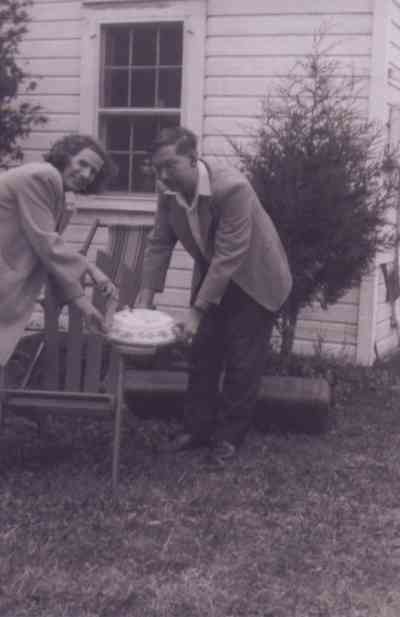 She then took jobs cleaning homes and businesses to support herself and her young son. It was while cleaning at radio station WATN that she met Donald E. Schryver, the chief engineer at the station. They were married on July 22, 1950. A son, David J. Schryver was born on August 29, 1951. Emily spent the rest of her life as a wife, mother and homemaker.
The photo at the left shows Emily and Donald with a cake. The picture was definitely taken at the family cottage on Pillar Point. It is not labeled but our best guess is that this was taken in the summer of 1950. Both of their birthdays were during winter months so it was not a birthday cake. David's birthday is in the summer but since he is not pictured, it probably was taken after their wedding.
Emily suffered a stroke in July 1999 and was moved the next month to Richard's home in Star Lake, St. Lawrence County, about an hour's drive away. Richard was retired at the time and David lived only about 20 miles away so it was easier to care for her there than in her home in Watertown. She suffered a series of strokes in April 2000 and passed away on April 22, 2000 at age 91-3-25.
Her funeral was held on Tuesday, April 25 at the Reed & Benoit Funeral Home in Watertown. The Reverend Mr. Peter Lawless, deacon of the Sacred Heart Catholic Church in Edwards, officiated. She is buried at the Brookside Cemetery in Watertown.
---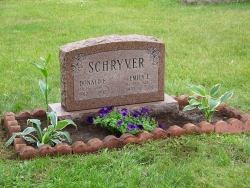 Donald and Emily's gravestone at the Brookside Cemetery